why
deep cleveland junkmail oracle was founded in the literary spirit of the late, legendary cleveland outlaw poet d.a. levy, and to fulfill the vow he made in 1967 to the home town that both inspired & persecuted him: "in the days unborn you will find my brothers ARMED with words you havent even dreamed of." this site will be updated quarterly, or more frequently if we damn well feel like it.
this site is envisioned as the first in a series of interrelated web ventures & publishing projects that will appear under the auspices of deep cleveland publishing. don't ask about the others, they're top secret.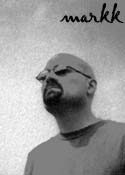 who
the editor of deep cleveland junkmail oracle is mark s kuhar (markk), a local writer of dubious qualifications & somewhat ecstatic motives. he does this for fun & of course for the huge profits.
when
deep cleveland junkmail oracle was founded in 2001, or thereabouts. we can't remember.
where
deep cleveland junkmail oracle's editorial offices are located inside tiny p.o. box 1025, medina, ohio 44258. stop by & visit. we'll buy you a tiny cup of coffee. we can always be reached using the magic of the wired world at markk@deepcleveland.com.
how
deep cleveland junkmail oracle is funded & supported by the generosity of outside donations. so send us some cash.