A tribute to james r. lowell
1932 - 2004


jim lowell, d.a levy, allen ginsberg
jim lowell. poetry connoisseur. legendary cleveland bookseller. victim of the 1960s obscenity-and-the-first-amendment wars. although i had known him by reputation for many years, my first contact with jim lowell was by letter shortly after the launch of my web site in July 2001. i wrote to him to let him know i had launched an online literary magazine that was in part a tribute to d.a. levy. he wrote back wishing me luck, & let me know i was welcome to visit his asphodel bookstore as long as i called in advance. i did call, & drove out there in late summer, where i was warmly, yet cautiously, greeted. it was apparent that jim wanted to make sure i wasn't a con-artist or mercenary intent on making hay off of d.a. levy's name. so he tested me by dropping half-names: "You know tom lives up the street?" he asked, his eyes locked on mine, waiting to catch me unawares. "yes, how is tom kryss?" i answered. jim smiled, paused, & told me tom was fine. a little later, he asked me if i knew rjs's poetry. again, that look, waiting to see if i knew who rjs was. "i haven't read a lot of his work," i replied, and I told him what rjs stood for. "do you have any of his stuff?" again, that smile, a nod of the head. he led me over to a stack of alan horvath's unique hand-made books, which had some of rjs's poems in them. after that, the information came much more freely. we spoke a lot about poet kent taylor & many others from the cleveland poetry scene circa 1960s. i had successfully passed through jim lowell's finely tuned "bullshit meter." i was honored when he showed up at levy lives! the 60th birthday party & poetry reading i organized for d.a. levy's 60th birthday. i was even more honored when jim gave me a copy of the special-edition book that alan horvath compiled to celebrate jim's 70th birthday. jim lowell was an honorable man, a man of letters, a husband, a friend to many poets & more. his place in cleveland's literary history is secure. & he will be missed.

the asphodel mail-order catalog


jim lowell 70th birthday tribute book


jim's letter to me, summer of 2001
| | |
| --- | --- |
| | karen sandstrom's article on jim, from the plain dealer |
signaling jim
the living
know nothing
of the dead
but hopefully you sense
what went unacknowledged

all the poems
were really
for you
-- kent taylor


requiem for jim lowell (1932-2004)
jim lowell is gone -- stone lion
of cleveland's street poets,
ageless in the asphodel,
high in a 1960s old arcade
crawlspace, surrounded by
first editions & rarefied air,
patron saint of d.a. levy,
kent taylor's rock in the storm,
keen eye for bullshit &
oh how he knew his stuff,
chased down by the cops
for pandering obscenity?
(obscene my ass, the only thing
obscene was his persecution,)
he never recovered the books
they stole from him (stole his
books, not his reputation,)
jim lowell in burton's rustic
retreat, asphodel reincarnated
in a basement space where
his silence was overwhelmed
by the written word, where
books were both relic & talisman,
a place of pilgrimage for outlaws
& poets & collectors & dreamers,
in cleveland there is no monument
to d.a. levy, to jim lowell, to
jim lowell's goldfish ("it was
just a poem about my goldfish,"
he told me, "one of levy's most
popular poems tho," he said.)
i never made it back out to
burton, i regret it, but thanks
for all you did for me, jim.
jim lowell is gone, but he aint
gone, no one is ever really gone.
--markk
meandering & musing in lowell country
(for james r. lowell, january 4, 2004)
last summer
we passed your house
also the asphodel bookstore
four times in rural northeast ohio
like a mind fuck
looking for a tree
with a red ribbon
the sign to turn in
what strength in your structure
almost too real to believe
driving up unpaved drive
you sitting there
in a renovated garage
tess in the kitchen
and all those writers
on the shelves
moore drank beer
connecting lit junky
dots to dots
and generations
while she brought me tea
and we could have spent
20 years there
yeah with the books
but more with you
listening to your observations
the details
you talking about getting popped
by the cops in cleveland
or taylor in san francisco
or kryss who you added
lives down the street
in your front room
levys painting on the wall
as tess spoke of how sweet
a man he was
you sat there jim
we didnt know how
much pain you were in
until tess told us
and then she says
you live for this
and so do we
so do i
at your feet
us non-artists
i remember you wrote
the air is full of good sound:
(not the assembling of troops)
young people
grasping at what love is left
in this fading world
now i am here
in tremont
in cleveland
in tears
with death on mouth
and you are
somewhere
maybe nowhere
or everywhere
but heroic the same
-- matthew wascovich


untitled
Sharing of the flower found in books
Vigilant of wind and additives
Cheerful in rain, steadfast in friendship
May these seeds of you in everyone's hearts
thrive in all weather --
"Whoever loves for years hasn't loved in vain."
-- tom kryss
" Jim Lowell's death is very sad news.

He was a gentle, quiet, thoughtful and totally literate soul.
I will miss him. "
Suzanne DeGaetano
Mac's Bacs


Some random thoughts on Jim Lowell's memorial service, Saturday March 27 2004

Well, what is there to say? A mild day that could not make up it's mind whether to be spring or winter. It did not rain so all was good. Arrived to find the shop empty! Sort of prepared as had been receiving running reports from mother on the 'grand clean up.'
However, it was still something of a shock. Reunited with Howard, a handsome profile that was instantly recognizable as he came through the door. His tow headed son, with slingshot in hand underlined how much time had passed since I last saw him. More people arriving, friendly, quirky academics, a tartan clad piper and poets all.
At weddings, there are rules of behavior and mile markers for certain phases to end and others to begin. As far as I know there is nothing similar for memorial services, so a sort of general anarchy prevails. Everyone chatted, recalled Jim, fought back tears, swapped stories. The Kiernan boys put aside their differences and displayed a united front that did them credit. Not generally a bookish bunch they stayed together and resisted the temptation to start hitting one another. Another a mark of respect for the one who was not there.

His closest friends read poems dedicated to his strength, his memory and above all his consistency. "He kept the flame alive when the rest of us did not have the courage."One line that resonated was a description of the smell in the shop, "like that of books turning back into trees." I thought that a lovely sentiment. It underlined Jim's role as a steward of the books that came his way. Not a hoarder, like one would gather prize butterflies, but a steward charged with finding, enjoying and then passing on the treasure he prized. His life mattered. He impacted a lot of smart, caring people. He was admired, respected and loved.
Scattering the ashes while the piper played the lullaby, Everlasting Peace, was strange and beautiful. Moving to the Flats was truly special. I remember that a long time ago, you Tess, or Jim told me that you fantasized about living in the bridge keeper's house, or a house on that industrial part of the river. It was a long time ago so the details are like the river, a little murky. Perhaps this was a way of paying tribute to that ideal. We walked past the giant Celtic cross, erected, it appears in 2003 as a permanent reminder of the iron heel of English oppression and Cleveland's lock step solidarity with the famine victims.
We scatter the ashes as the piper now plays a lament, thankfully not Amazing Grace, but a plaintive melody that takes the edge off the cold air. After we are done scattering, I look at the water and a seagull comes and lands about 50 feet from the bridge, he, I guess it's a he anyway, bobs his head in the water just once and then swoops up and carves a low, wide turn, first to one side and then the other, He continues this effortless glide, making 'S' shapes in the air.
Again, a long time ago, Jim told me that Cuyahoga meant 'Snake' because that was the river's shape. For a moment I thought that the flight path of the gull was the shape of the river. He did not land in plain sight, simply continuing his journey west, to wherever. Now I do not want to read anything too spiritual into this episode, but it was a powerful moment. The day my Dad died a huge rainbow appeared over the house on Bishopthorpe road despite there being no rain. It felt much the same watching that bird and will stay with me as the defining moment of the day. Of course, both Tom and Jim were proud atheists and would tell me 'stop being so bloody stupid." But, hey, it's my memory and I wanted to share it with you Tess. So take it in a spirit of love and loss and respect.

-- andy wood (jim lowell's cousin)

Center Street farewell
sardine-like we piled in poets professors elders with quiet confessions
homage to book man mind man friend man husband man
his lovely widow weeps graciously at the mention of his name
whimsical energy fills the chilly air flowers dance overhead
shelves and tables crevices tuck hide surprise and sadden
we toast; the heat burns throat but warms heart
like poetry to be written
baseball bat microphone announces readings
Scottish music plays as we deliver him home
in mud the poets they examine each other
carefully aloof but relenting as time is running out
the day takes us to browsing at his Center Street farewell
bagpipes still play under lift bridge operators
nose bleed seat Erie winds barter and billow
contemplating his final travel path
bittersweet clicks of camera catch awkward river feeding
rust belt dusting
somewhere from sometime over the serenity of
blowing pipes I hear drunken dreamers emerging from
the Harbor Inn prophesizing stripping crooked
dying river of its cover
now it ends where it began near the banks floating
dreaming feeding
she spills the remaining tired bones from Ziploc coffin
and now he feeds the Cuyahoga
tears flow cloudy murky
quietly she leaves
the bridge goes to sleep
the river goes to sleep
the city goes to sleep
again

-- joanne cornelius
Scenes from Jim Lowell's Memorial Service
Saturday March 27 2004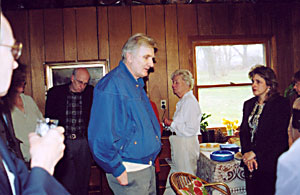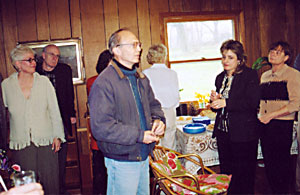 Tom Kryss (Tessa in backround) and Kent Taylor eulogize Jim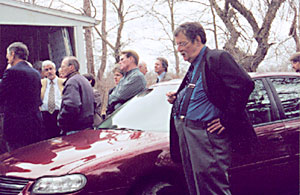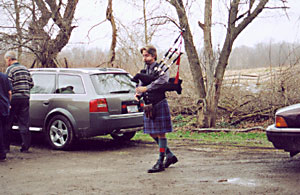 Poet Steve Ferguson (left) and the Bagpipe Player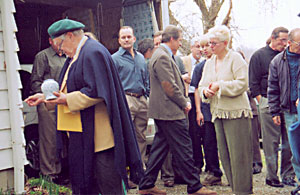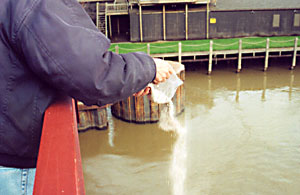 Spreading Jim's ashes at the Asphodel (left) and the Cuyahoga River (right)